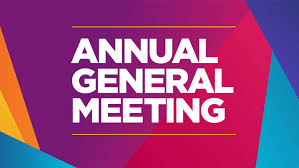 The Chair of Coxhoe Village Hall Association presented his Annual Report to the Annual General Meeting of the Association (AGM) on 3rd October.
Paul Dodsworth set out the achievements of the Village Hall Association. He celebrated the diversity of the user groups against the energetic background of the Clubbercise activity taking place elsewhere hall. He thanked all the user groups.Paul gave the committee's appreciation to volunteers and friends  of the Village Hall. He thanked staff for all their hard work. In addition, Paul acknowledged and thanked funders, including Coxhoe Parish Council.
In order to secure the completion of two major projects to make the hall safer and more acceptable, and in absence of anyone wishing to stand, the existing committee were re-elected for a further short period. Paul said, 'It is vitally important for the future sustainability of the hall that we meet fire regulations and secure access to all to the first floor. We hope to achieve both these projects in the next six months when we will call an early AGM, possible around March. It will then be time for other members of the community to step up and take the Village Hall forward'.
You can access a copy of the Annual Report 2019 here.