Coxhoe Village Hall is a vitally important, established and real community hub which is providing a fantastic service to our local community
The Village Hall is effectively a true community facility and was gifted to the community last century. It is now run by a largely young and vibrant Management Committee for the charitable trust. The Management Committee have done a magnificent job in keeping making significant improvements to the Hall since taking over its running a couple of years ago . The Management Committee have set out from day one to bring the Hall into the 21st Century and provide a sustainable future.  They have sought out and implemented plans to  move forward and through hard work and securing available grant aid are well down the path of achieving their vision. There have been key improvements to the building including redecoration, new lighting and very importantly a new efficient and effective heating system. From September 2015, the Management Committee have been able to take on a part time manager, Claire Anderson, who is now helping the Village Hall to improve even further.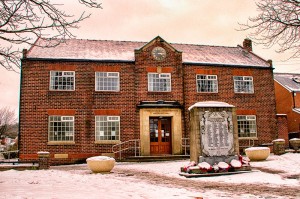 The Management Team are working hard to improve the range of activities and facilities within the Village Hall. There are a range of regular activities taking place from play groups to craft workshops and from book clubs to older persons' social meetings. The hall has always been a centre for different dance groups. The Village Hall Hop has established its home at the Village Hall with fortnightly and other occasional music and market events. The Durham Police Choir now practices at the Village Hall. Coxhoe Parish Council who took over ownership of the building now have their offices and meetings in the Village Hall. Other community groups such as Coxhoe Community Partnership and Coxhoe History Group have their regular meetings in the Hall.
The Village Hall has a range of different rooms available and has some important features including  a bar refreshment area and stage all on the ground floor. Its a great place for parties and weddings. Coxhoe Community Partnership has helped with some improvements to the access to the building and as a result there is now reasonable disabled access to the ground floor but no disabled access to the first floor.Addressing this issue is high on the Management Committees agenda but it is something which will be very expensive and not easily achieved.
There has been clear support for the sustained future and improvement of this important community facility. 95% of those who completed the Parish Plan household survey in 2012 supported this. Lesser numbers felt that there were adequate activities at the Village Hall (60%). In addition, activities for young people and sport, leisure and culture are seen as key priorities for the community. Whole arrays of suggestions were made about what activities could be made available, ranging from arts and crafts to drama groups to a range of educational classes such as relationships. Many people commented that the Village Hall should be given a complete re-vamp and needed new ideas. Some felt that it could be used more for a "parish centre" with the Parish Council using the building more for its meetings. Others felt that it should be open more hours, particularly during the day when its toilet facilities could be made available to the general public. There was some evidence in the household survey that some people may be prepared to volunteer to help out, (22% offered their services). The new Management committee have made great strides in meeting these wants and needs.
There is no doubt that the Village Hall is an important and well appreciated community facility. Its future, which was once in doubt before the new Management Committee took over is now flourishing and going from strength to strength.
The committee, and its staff,  works hard on a voluntary basis to provide a clean and pleasant venue for the community. It still need the support and help from the community to enable it continue to improve. Can you help?
Charity Number
520763