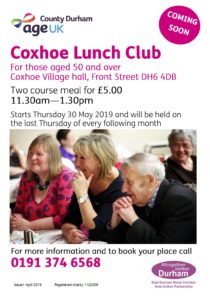 Age Uk County Durham held a luncheon club event on Thursday, 28th February 2019 .
The event was being provided in association with Durham County Council and other partners. Age Uk are invited you to join them for a freshly cooked meal and an information roadshow. The aim was to lead into a regular lunch club at the Village Hall. Food was provided by Café Seventeen  and consisted of broth and a bun with sponge pudding and custard to follow.
Due to the success, Age Uk in partnership with the East Durham Rural Corridor AAP are holding a further Luncheon Club on Thursday 30th May 2019. The luncheon club takes place between the hours of 11.30am to 1.30pm. Two courses are available for £5 per head
The event will be open to the over 50's. For more information, and to book your place please call 0191 374 6588
The even better news is that Age Uk are to provide the luncheon club every month on the last Thursday of every month. How good is that!