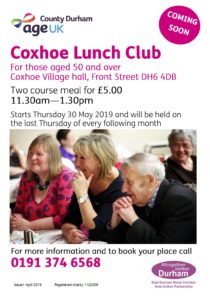 The monthly luncheon Club at the Village Hall is restarting on Thursday lunchtime at Coxhoe Village Hall and will take place on the last Thursday of the month.
The luncheon clubs are being organised by Age Uk in partnership with the East Durham Rural Corridor AAP. The luncheon club takes place between the hours of 11.30am to 1.30pm. Two courses are available for £5 per head
The events are being supported by County Councillors Stuart Dunn and Maura McKeon as well as the management and staff of Coxhoe Co-op. Local cafe Seventeen are providing catering services. The event would not be possible without the volunteers from 'Friends of Coxhoe Village Hall' although  further volunteers are required to help sustain the events.
The event will be open to the over 50's. For more information, and to book your place (you must book a place if you wish to come along. please call 0191 374 6588
If you are interested in helping out as a volunteer please email karen.williams@coxhoeparishcouncil.gov.uk or ring 0191 377 3658