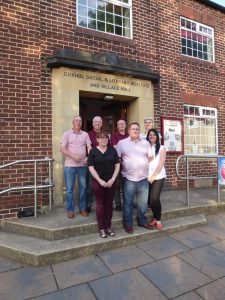 Last year's Village Hall Association Annual General Meeting (AGM) resulted in some changes to our Management  Group.The Management Group members are Paul Dodsworth (Chair), Nicola Dodsworth (Secretary), and Gary (Treasurer)  and Trish Robinson. The Management Team are committed to ensuring the future of the Village Hall is sustained for future generations and are prepared to make the difficult decisions that are sometimes needed to achieve this aim.You can find out a little bit more about the individuals on the Management Team here.
Paul Dodsworth (Chair)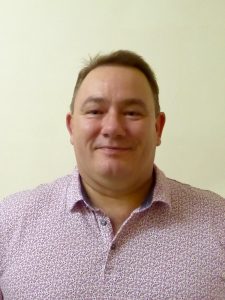 I am delighted to be elected chairman for the seventh year. We as a committee have worked extremely hard in the last few years, which has seen the village hall improve significantly whilst balancing our books.
Usage at the hall has significantly improved, but we know there is still lots to do.
I went to Coxhoe Primary Scshool and moved back to Coxhoe in 2000 where we have brought up our family. I feel strongly about making a difference for the benefit of our community, which continues to expand.
I am also Managing Director for a major construction company directly responsible for the North East and Yorkshire, Manchester, Liverpool and Cumbria regions, a turnover in excess of £300 million and employing circa 400 people in the North East alone. This experience and business focus has helped the committee remain on task, and I look forward to working with the committee and the community it serves going forward'
Nicola Dodsworth (Vice Chair)
I proudly originate from Coxhoe returning with my family in 2001 to live.
Until recently I was a medical receptionist for the village GP and now don't work choosing to devote my time, caring for our family, volunteering as part of the committee at the village hall and at St Cuthbert's Hospice in Durham.
I am passionate about sustaining the long term future of the Village Hall for the community of Coxhoe.

I am pleased to be doing my 7th year as a committee member of Coxhoe village hall.I am pleased that the hall is going from strength to strength. We as a committee  still have a lot of work to do.Im pleased with the progress that has been made over the years to fetch the hall  up to modern standard .
I have lived in the village all my life  attended the primary school. I also attended Bowburn and Coxhoe secondary schools.
Patricia Robinson, Committee Member
My name is Patricia Robinson.I have been a friend of the Village Hall for three Years .I am now on my second year as a committee member , I am pleased with how the hall is progressing with a hard working committee, which we have a lot more to do within the village hall.
I have lived in Coxhoe for approx. 30 Years. I attended Landsdowne Comprehensive Bowburn/Coxhoe.
The Management Team are supported by our two hard working caretakers Derek Orton and Shirley Armstrong.  Derek and Shirley will be on hand to ensure your event runs well.