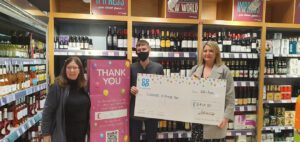 The Village Hall Association says a massive thank you to our Co-op and  its customers.
We were lucky last year to be selected as one of the Co-op's local charities as part of their Local Community Fund. Co-op members are able to select which cause they would like to support. The Co-op then makes a contribution based on member's spending on Co-op produce and goods. We are delighted to advise that this year the Co-op awarded the Village Hall £4,910.25p. This is fantastic news for the Village Hall which will be be of great help to the future of this important community hub, run by volunteers. Chair, Stuart Dunn said, 'We are delighted that so many people in our community have supported the Village Hall through their Co-op membership and that as a result, we have benefitted significantly. This is just fantastic. The Village Hall Association Management Committee would like to say a very, very big thank you to all involved'.
You can still support our Village Hall  by shopping at the local Co-op store.
Coxhoe Village Hall Association are pleased to announce that they have been successful in being chosen again as one of this year's Co-op Local Causes. This is for our project to provide a safe, supportive and non-judgemental service to support local young adults aged 16-25 gain confidence, enhance life and employment skills and help realise their worth. We've already raised £76.00 so far from the Co-op Community Fund.
Our village hall strives to be a community hub; a place where our users and volunteers feel welcome, safe, valued, respected and supported. We are people-led and focused, and we consult to ensure we are delivering the right activities, in the right place and at the right time to help improve the physical and mental wellbeing of our users. We encourage community cohesion and help tackle social isolation.
As our project has been selected as one of this year's Local Causes, every time a Co-op member buys selected Co-op products the Co-op donates a percentage of the receipts to chosen local causes.
if you are a member please select us as a cause by;
clicking on this Local Causes link,
selecting 'See your local causes',
logging in to your Co-op Membership account, and then
selecting Coxhoe Village Hall
Once you have done that every time you shop at the Co-op they will donate to our project. It would be a massive help to us.
If you are not currently a member of the Co-op Membership Scheme why not sign up by visiting the Co-op Membership Page and then choosing Coxhoe Village hall as your local cause.
Remember that you can also help the Village Hall if you shop at Amazon by shopping via Amazon Smile. find out more details about that here.
We hope you can support us and we thank you for doing so