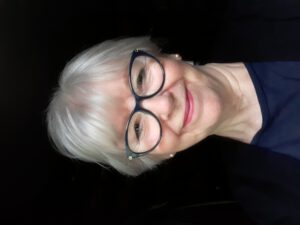 We are so sorry that we are saying goodbye to one of our stalwart volunteers, Lorraine Hall.  After seven years of helping to run our Reading Room here at Coxhoe Village Hall, Lorraine has decided  to step down from her role in order that she may concentrate on her other commitments.
Lorraine always has a welcoming smile and a willingness to help share her knowledge and interest in books.  Having had a career of working in libraries (which she still does) she has been able to bring an exceptionally high level of expertise and has shared her wealth of knowledge in how to best run our Book service to everyone involved.
Lorraine has worked closely with Ann Fawcett to ensure that our Reading Room is always accessible, interesting to everyone, current, up to date and well organised in order to offer a high level service to our community, and they both do an excellent job, recognising just how important it is to for our community to be able to have access to books
She has been a great asset to us and she will be hugely missed by everyone here at Coxhoe Village Hall.
The Committee, staff, volunteers (especially Ann), and users all wish her well and look forward to see her when she has time to drop by for a cuppa and a catch up
Thank you Lorraine.