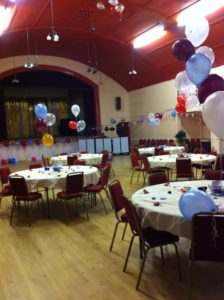 We are looking forward to commence reopening on Monday12th April and especially to welcome back those user groups who are allowed to return.
We still miss all of those of our other user groups who aren't yet able to return because of Covid rules but we are speaking with them all and planning for them to return as and when they can  feel they are comfortably able to so.
We have a comprehensive Covid Risk Assessment and have ensured that all user groups have shared theirs with us too in order to ensure we're fully compliant and as safe as possible.
Cubs, Scouts and Beavers are our first returning user groups, starting back on 12th April.
We also have a new group starting on Tuesday 13th April – Little Movers – and the following week we also welcome Hartbeeps a new regular weekly group. More information will be made available about these in due course but they are currently doing their own publicity.
The food bank and Community Pantry will continue to run each week as now established.
We will keep you posted as to when other groups are returning
We are also open to accept new regular bookings and for any bookings for parties, weddings, christenings and the like.  Parties and events are of course now serviced by our new toilets.
If you would like to make a booking, have any queries or need more information on any of our activities, then Please ring 0191 377 0344 and leave a message on our answerphone; or email us at admin@coxhoevillagehall.com and we'll get back to you as soon as we can