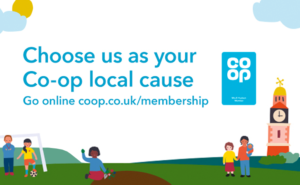 You can now support out Village Hall technology project by shopping at the local Co-op store.
Coxhoe Village Hall Association are pleased to announce that they have been successful in being chosen as one of this year's Co-op Local Causes.
Our village hall strives to be a community hub; a place where our users and volunteers feel welcome, safe, valued, respected and supported. We are people-led and focused, and we consult to ensure we are delivering the right activities, in the right place and at the right time to help improve the physical and mental wellbeing of our users. We encourage community cohesion and help tackle social isolation. We wish to introduce the use of IT as a way to keep in touch with others. We noticed how Zoom meetings have been so successful during the coronavirus pandemic, and we want to teach our community how to embrace and use technology to its full potential. We realise older people and those from deprived backgrounds may not have access or knowledge, so we want to address this. We would like to buy IT equipment, install the internet and add electrical points, new carpets and redecorate to create a fit-for-purpose and comfortable learning environment.
As our project has been selected as one of this year's Local Causes, every time a Co-op member buys selected Co-op products the Co-op donates a percentage of the receipts to chosen local causes.
if you are a member please select us as a cause by;
clicking on this Local Causes link,
selecting 'See your local causes',
logging in to your Co-op Membership account, and then
selecting Coxhoe Village Hall
Once you have done that every time you shop at the Co-op they will donate to our project. It would be a massive help to us.
If you are not currently a member of the Co-op Membership Scheme why not sign up by visiting the Co-op Membership Page and then choosing Coxhoe Village hall as your local cause.
Remember that you can also help the Village Hall if you shop at Amazon by shopping via Amazon Smile. find out more details about that here.
We hope you can support us and we thank you for doing so