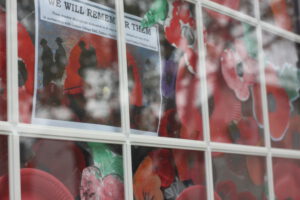 We are delighted to have worked in Partnership with Coxhoe Primary School and Coxhoe Parish Council to develop the Village Hall Remembrance Day Window display.
Pupils at the school have produced art work with a 'Lest we forget' theme. Parish Councillor Kay Simpson has undertaken to lead the display of the artwork, featuring an abundance of poppies and messages to show commemorate the end of the war and show respect to those who died in conflict.
The Village Hall Association are delighted to host the display and  thank everyone for their contribution. We cannot hold a Remembrance Service this year due to the virus. We would encourage everyone to participate in a doorstep mark of respect at 11.00am on Sunday 8th November 2020.
Please have a look at the display if you are passing on your daily exercise or essential shopping. If you cannot get to see it please look at the gallery below.