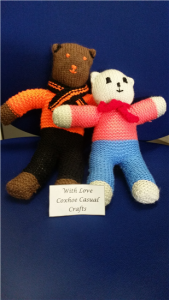 Ladies from Coxhoe Casual Crafts who meet on a Friday morning in the Village Hall do quite a lot of Charity knitting, crocheting and sewing be it Poppies, Hats for premature babies, or making goods for our local Methodist Chapel Fayre.
One of their members Ann Taylor brought our latest project "Trauma Teddies" she has been making them for quite a number of years for different organisations and the Group  thought that the Darlington and Durham Fire and Rescue Service was a worthy cause to give them to. The Group have donated the teddies so that they can be given to children involved in incidents that the Fire and  to attend to put a smile on their face, to comfort them and know even in times of trouble someone still loves them. The group is still keep making them to continue to donate.
The Fire and Rescue Service have been delighted with their idea and recently posted the following on theri Facebook page:
'We are very touched and give much thanks to Coxhoe Casual Crafts who have kindly donated hand made 'trauma teddies' for CDDFRS to give to children involved in incidents we attend. The crafts group hope the teddies can offer comfort to children across County Durham and Darlington and put a smile on their face in times of trouble, amazing thought, once again, thank you! ❤️ #CommunitySpirit #Amazing'.
Coxhoe Village Hall are proud of our Ladies Group. They continue to show great local, national and international community spirit.