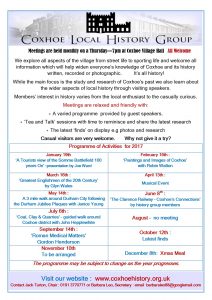 Coxhoe History Group have announced their programme of events for the coming Year,
The meetings explore all aspects of the village from street life to sporting life and welcome all  information which will help widen everyone's knowledge of Coxhoe and its history  written, recorded or photographic. It's all history!While the main focus is the study and research of Coxhoe's past we also learn about the wider aspects of local history through visiting speakers.Members' interest in history varies from the local enthusiast to the casually curious.
Meetings are relaxed and friendly with:
* A varied programme  provided by guest speakers.
* 'Tea and Talk' sessions with time to reminisce and share the latest research
* The latest 'finds' on display e.g photos and research
Meetings are held monthly on a Thursday—7pm at Coxhoe Village Hall   All Welcome
The events are:
January 12th
'A Tourists view of the Somme Battlefield 100 years On' -presentation by Joe Ward
February 16th :
'Paintings and Images of Coxhoe' with Robin Walton
March 16th :
'Greatest Englishmen of the 20th Century' by Glyn Wales
April 13th :
Our latest finds– artefacts, information and contacts through our website
May 11th :
A 3 mile walk around Durham City following the Durham Jubilee Plaques with Janice Young
June 8th :
'The Clarence Railway – Coxhoe's Connections'by history group members
July 6th :
'Coal, Clay & Quarries' – guided walk around Coxhoe district with John Hepplewhite
August – no meeting
September 14th :
'Roman Medical Matters' Gordon Henderson
October 12th :
Musical Event
November 9th
To be arranged
December 7th: /14th Xmas Meal
Casual visitors are very welcome.   Why not give it a try?