Fantastic range of books available at our bookshop!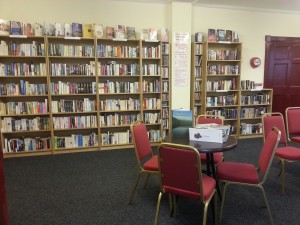 Our "Reading Room" book shop/exchange facility is now open for business.
Our opening hours are currently:
Tuesdays and Fridays  10 am-12 noon
Thanks to the generosity of members of the community, we can now offer a wide range of nearly-new books, including:
fiction and non-fiction
biographies and autobiographies
crime
history
gardening
arts
crafts
children's books
and many more…
We also have jigsaws on offer.
Books can be purchased for £2.  Babies children's and teenager's books are only 3 for £1. We also have a bargain books section at 3 for £1.
It's not too late to donate – more stock of good quality, nearly new books is always welcome and needed to replenish the shelves so that we can continue to provide a wide selection.  Donations can be left any time the hall is open. We are particularly interested to receive good quality non fiction books  We are particularly interested in donations of good quality non-fiction books.
Our thanks to the "Friends of the Village Hall" who have helped to set up the reading room and have offered to supervise sessions.  Why not become a "Friend"?  More Friends could mean more sessions!