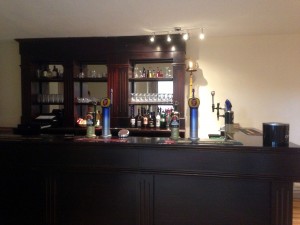 The Coxhoe Village Hall Management Committee is delighted to announce the immediate availability of our brand new bar and function room facilities! The culmination of many weeks of hard work, the hall is now open for business.
Perfect for any occasion, including weddings, christenings and birthdays, the hall can seat up to 150 guests. Our new bar serves a wide range of drinks, from Fosters and John Smiths on draught to a selection of spirits, wines and soft drinks.
The newly refurbished hall has already been put to good use, hosting a christening celebration on Sunday 9th June. Lisa Hall passed on some great feedback from her guests, who generally were amazed at the transformation that has taken place at the hall. Lisa commented, "A year ago I would never have thought to have such a function in the hall, but from now on all of our parties will be held there".
If you'd like to book our function room facilities for a special occasion, please don't hesitate to get in touch with us. We look forward to hosting your special day!