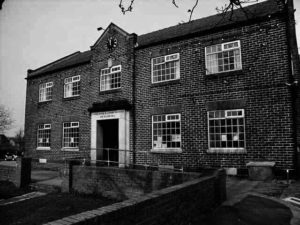 A ghost hunt due to take place on 31st January has been sold out on the basis of facebook publicity by the organisers.
Coxhoe Village Hall, as it is now known, began its life in 1910 when four cottages on the front street were converted into Coxhoe Temperance Institute with two rooms for billiards and rooms for reading and games. This soon became too small for the growing community and by 1913 plans were being made for a new building.
These were interrupted by WW1 and the great depression afterwards but by 1932 the community had raised funds for a new building. The site chosen was behind the cottages which were then demolished. Early deeds show it was also named Coxhoe Temperance Institute but shortly afterwards was renamed Coxhoe Social and Literary Institute and Village Hall.
So whats the event about? you may have seen all the paranormal shows on TV. Well this is a chance for those that have signed up to become an investigator. The group organising the event pride themselves on our scientific research and they are a gadget friendly group. They also like to use old school original methods of contacting spirits which include Ouija boards, table tipping and human pendulum. Although they do enjoy our gadgets, they are big believers that the best tool for the night are those participating.  Nothing is faked and we can't make the spirits perform– what you see is what you get! A real, paranormal investigation.
What will be uncovered when the lights go out? Only the brave will dare!!