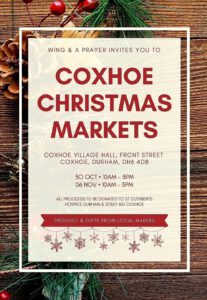 The Village Hall is the venue for two Christmas Markets to be run by A Wing and a Prayer.
They are due to take place on the following dates:
October 30th
November 6th .
Both events will take place between 10am and 3pm.
The markets are part of this exceptional small business's anniversary celebrations.
All proceeds from stall fees, Tombola and Raffle prizes raised will be split equally between St Cuthberts Hospice Durham and Stray Aid Coxhoe.
The shop is covering the cost of hire for the village hall on both dates so as much money as possible will go to these two worthy charities.
The shop will of course be open on both these dates, and we hope you can come along, and support the event and pick up a gift or two.
The events will start a bit of festive cheer that we were all denied of last year.
For further information please contact A Wing and a Prayer