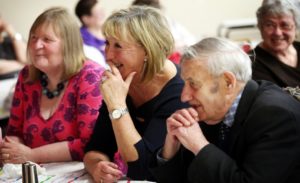 The latest Luncheon Club was held on 30th May and was attended by 20 people.  A 2 course meal of Shepherd's Pie followed by Apple Pie and Custard was served, and there wasn't much leftover.
George Barber, Development Worker for Age UK asked how everyone had enjoyed it and the feedback was 100% a great success.  We even got Rita to sit down and enjoy her meal, rather than volunteer as she does for everything else!! – she's a star!!  Our volunteers today were Ann, Linda, Maureen and Sandra who did a brilliant job of serving the meals and clearing up afterwards.
The next Luncheon Club will be Thursday 27th June 11.30am – 1.30pm.  Those who are already members need to inform us if they can't make it.
Anyone interested in coming to the next one is more than welcome, but you do need to book in advance by ringing Ann on 0787 519 5774, or Age UK on 0191 374 6568.  Cost is £5pp for a two course meal.
The event is arranged by Age UK and Coxhoe Village Hall and supported by Coxhoe Coop, Local County Councillors and East Durham Rural Corridor AAP.  The Luncheon Clubs will run on the last Thursday of every month, the next three dates being:
Thursday 27th June
Thursday 25th July
Thursday 29th August