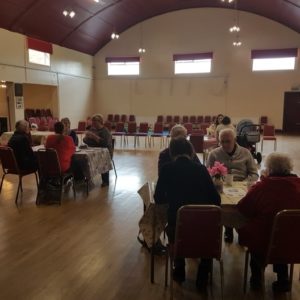 Last Fridays Catch Up and a Cuppa at the Village Hall was deemed to be a great success.
The coffee morning raised £65 (after expenditure deducted)  to support the future improvements of the Village Hall, which was great for our first attempt. Massive thanks goes to those who took time out to support us, and also for the really positive feedback! The new table cloths and vases make so much brighter and the toys for the children went down well too.
Special thanks to Rita, Janet, Sandra, Heather and Shirley for volunteering  their time and helping it run so smoothly.  Thanks also go to Alison from Adore, Claire, and Karen for their raffle donation; and to Kay, Heather and Karen for their superb cake donations -which were all eaten!
The next Catch Up and a Cuppa is Friday 7th June 11am – 1pm,  and all are welcome